Welcome to the official website for psychedelic, abstract artist, Marck Webster.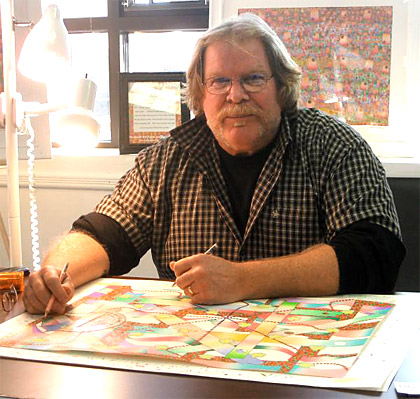 Marck Webster was raised in Long Island, NY, and is product of the mind expanding late 60's and early 70's. Marck's work is reflective of a life spent bridging the gaps between Hippie, Sailor, and a detective in the NYPD.  Marck has been creating artwork in various forms throughout his life. However it was not until his retirement from the NYPD in March of 2006 that he began to create abstract drawings as a full time passion. Marck's influences range from Alton Kelley, Stanley "Mouse" Miller, and Augustus Owsley Stanley III, to Peter Max, Arno and Rick Griffin … but most notably by the light show that plays behind his eyelids.. His work involves explosive colors that melt into a singular vision, allowing the viewer to connect and invent their own meaning.
Please feel free to browse the Gallery Section. If you would like to purchase a Museum quality Giclee print of any of my work, just click on the Contact Page, and use the email form to let me know which title you are interested in, and I will get back to you promptly with the necessary information about ordering.
Thanks and happy viewing,
– Marck